Now you can get a Dealership Contract Template from here without any cost to pay. A dealership agreement is entered between two parties, namely the dealer and the supplier. The dealer purchases good from supplier and is responsible for selling them in his sales territory. All arrangements for sales promotion and marketing are of the dealer. Dealership contract is featured by "exclusivity" which forbids the supplier from undertaking sales in the dealer's territory as well not to enter into any contractual agreements with other dealers in the same territory. When a contract provides for no exclusivity, the supplier has a right to sell all or part of his goods specified by the agreement. Good Dealership Contract Template will make your job lot more easier.
However, the contract will specify whether the dealer is allowed to appoint other sub-dealers, selling agents or marketing representatives. The dealership contract shall mention the clear list of products to be supplied by the supplier for a definite period. If any changes are to make in the list of goods an amendment is to be made to the contract to include new products or to exclude existing ones. The dealership contract should also provide terms for the use or non-use of the trademarks, copyrights or patents of the supplier or his products. If the supplier is willing to let the dealer use his trademarks etc, the remuneration for such use should also be determined and agreed upon.
Download Dealership Contract Template: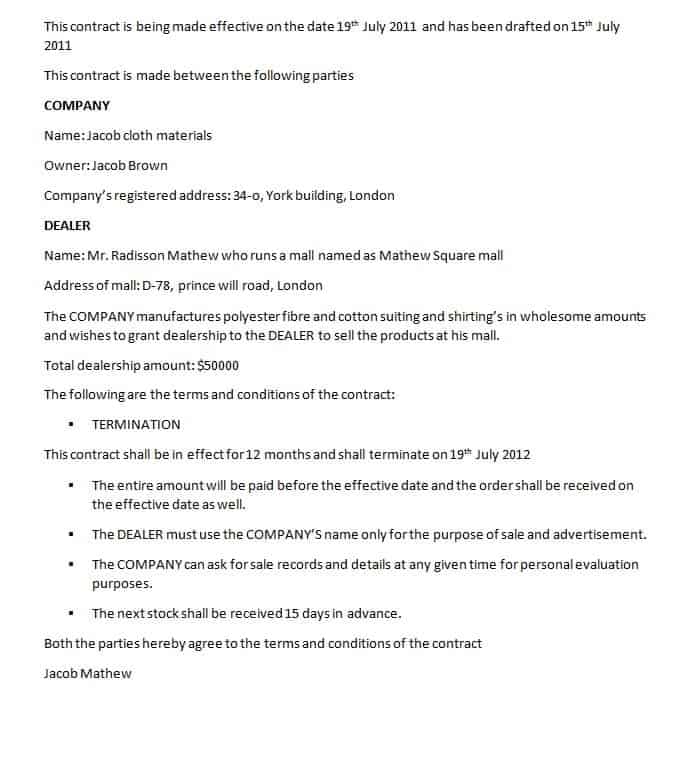 Free download dealership contract template  here.